This morning I was up bright and early to go on a field trip to the Annapolis Valley with my local spinning and weaving guild,
ASH.
Much fun was had on the ride down as I got to meet someone I hadn't met before, a sassy older Scottish lady who'd done a lot of travelling in her youth and had lots of interesting stories to tell. Our other travelling companion had also lived up north, and they both made me want to give it a try! Maybe after I finish my MLIS...
Anyway,
Gaspereau Valley Fibres
was lovely as usual, and I restrained myself and only spent $80, all on fibre for blending and spinning. I got 194g of delicious wool/silk top in sunny orange/yellow with a bit of chartreuse, and I bought 200g each of some beautiful fleeces--white and coloured English Leicester, and a beautiful dark Romney with delicious crimp that I think I will spin in the grease. Yum! We chattered and poked about in all the fibre and yarn and books, and played with the new Ashford Wild Carder drum carder, and then piled back in the vehicles to go Blomidon Inn for lunch. It was a great way to spend the morning!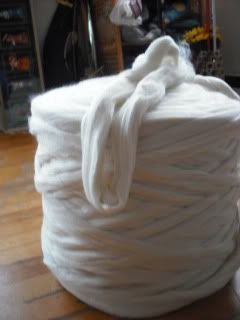 I've been up to a lot of dyeing as well--I bought 20 pounds(!!!) of Merino top in January, and I've been dyeing a few pounds of it a week for sale at the next
Ha
lifax
Crafters
Market on April 17th & 18th, and also for sale at
The Loop.
The first picture is to show you what 20 pounds of Merino top looks like...
Next up are of some of the top I've dyed, and a bit of fleece that reminds me of the Golden Fleece from the Greek myths of Jason and the Argonauts.